A responsible vision
Our ambition & commitment
MFM Global Sustainable Bonds, approved by the new European legislation.
The MFM Global Sustainable Bonds fund has been approved as a fund with the key objective of providing real sustainable impact under the new European legislation (SFDR Sustainable Finance Disclosure Regulation) . This is the most sustainable level possible for an investment fund.
MFM is very proud to offer a high sustainability impact fund in its range, investing only in projects that provide a tangible solution to environmental and social problems.
Our fund offers investors exposure to sustainable investing without sacrificing returns and credit quality. The strategy invests only in sustainable bonds and is designed to provide an optimal balance between risk and expected return.
One example in which we are invested is VF Corporation (formerly Vanity Fair Mills until 1969) is an American worldwide apparel and footwear company founded in 1899 and headquartered in Denver, Colorado. The company's more than 30 brands are organized into three categories: Outdoor, Active and Work. The company controls 55% of the U.S. backpack market with the JanSport, Eastpak, Timberland, and North Face brands.The company's more than 30 brands are organized into three categories: Outdoor, Active and Work. The company controls 55 percent of the U.S. backpack market with brands such as JanSport, Eastpak, Timberland and North Face. In 2020, the company issued a Green Bond that was allocated to various sustainable projects as following: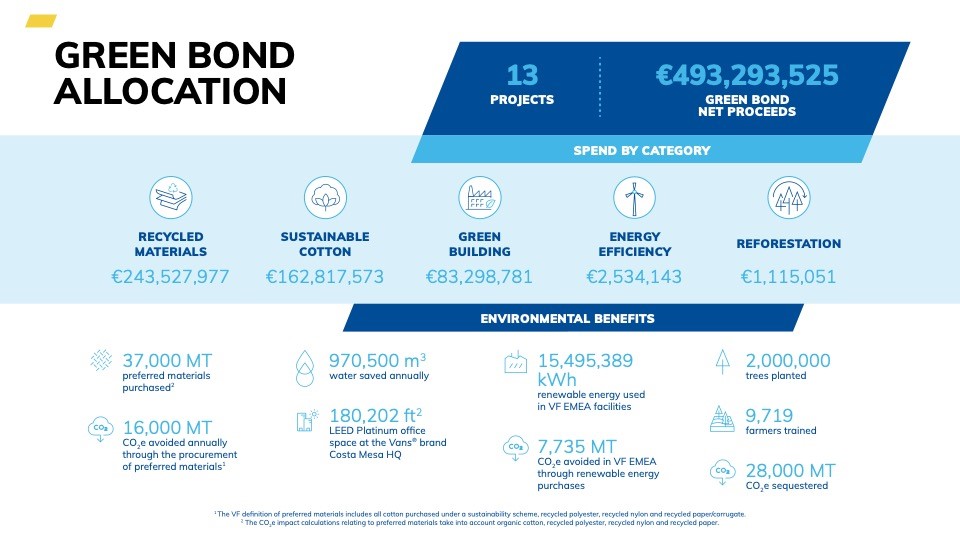 ESG Disclosures | MFM
Download PDF: Sustainability related disclosures